To the Moon, Production Updates
Thank you to all who have pre-ordered the new Silver Series pieces 'To the Moon'. I will post an update on production here this Friday, March 17th, and then around every 10 days until these begin shipping. If you have any questions please contact me by email or through the contact form here on my site.
Best,
Max Mellenbruch
03/17/2017 Update
The artwork I submitted to the mint pre-release has been completed, and the dies are currently being produced.
The mint said they were unable to add the tiny gold outlines around the moon & stars like I had envisioned. I decided to keep them silver, as I believe all-gold moon/stars may look tacky. Plus the Bitcoin logo should really pop now. I also declined the option to plate the rim in gold as I feel it would detract from the art. The additional charge for the gold-select is the same.
I also decided to go more 3D with the astronaut, which was an added expense and could potentially delay delivery by a few days, but I believe it will be worth it – so it's body/arms/hands will be sculpted instead of flat layers.
Production of the housings is underway, and I hope to have a photo of the first assembled housing next Friday. It will be rush-delievered to me, and as long as everything looks good, mass production will begin.
I've also acquired an additional 20 grams of NWA5000 to ensure that I have plenty in stock to fill all of the orders.
Thanks everyone, I will post a new update here in 1-2 weeks.
Max-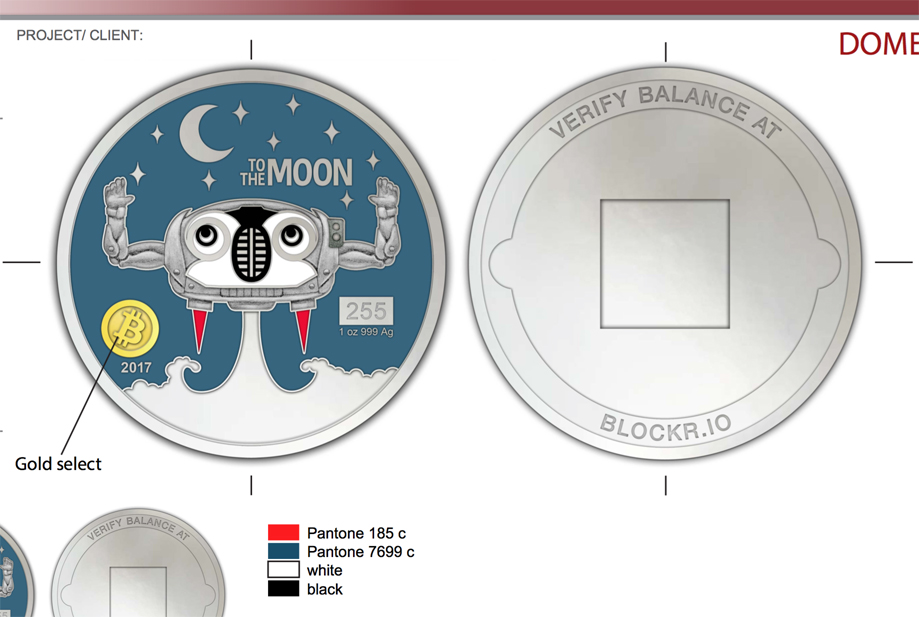 04/02/2017 Update
The supplier of the polished steel housings asked me to check back with them in a couple days for an update on production, and the silver coins are in production now. Will know more soon, and will post another update later this week. Thanks everyone.
04/10/2017 Update
I am still awaiting the sample of the steel housing from my overseas supplier. They ran into issues producing the small, sliding clip but I was told they came up with a solution and that I should expect to have it next week. I am working with another manufacturer as a back up and they will also have a sample for me as soon as this week (just to be safe.)
Update/quote directly from the Mint:
"On 03/31 the die cutters started with your updated art and cutting the dies to match them. They should be done with the dies by now and the dies will need to be heat treated for 2 days and then placed onto the production line. As of now your coins are scheduled to be completed on or about 05/12 but I fully expect that they will be finished most likely by 04/30 (can't promise you anything, but I know how my production people like to push things out early)."
All glass is also in production (after having approved the samples sent to me last week)
This week I am doing everything I can to be prepared for when the parts arrive – building all of the shipping boxes and applying labels. It's a lot to organize. I will post a new update on the housing very soon. I know they are doing their best.
Thank you everyone,
Max-
04/17/2017 Update
I wish I had more to share today… things have been moving slower than I would like with the steel housings, but I'm doing what I can to be certain that this project is completed and units are shipped as soon as possible.
The backup US manufacturer needed to order a special tool to produce the steel sliding clips – it was several thousand dollars and I put up the money for it. I'm guessing it's the same unforeseen issue my current overseas supplier was having. I have been assured by both parties that I will have a sample that meets my expectations and that production will begin before the end of the month, with my overseas supplier promising me by next Monday, and the US manufacturer estimating within around 10 days. I'm counting on both manufacturers to come through, and using the extra inventory I've ordered for a future release (without a preorder – I'm working really hard to escape the preorder cycle). These housings with the clip also costs 2.5x all previous housings.
I'm also expecting the new holograms to arrive before the end of the month. Please check back for another update here no later than next Tuesday… I may have more news to share later in the week though.
And here's a photo of the glass samples I approved a week ago that should be completed any day http://i.imgur.com/zaqOZKv.jpg
Best,
Max-
04/19/2017 Update
I debated posting this, because these pieces are not finished with the CNC process – but decided to share to show that progress is being made. This image is from the same manufacturer who produced the Signature Series housings and steel 1BTC housings. You can see there are still a lot of CNC steps to be taken on the main housing, and then the pieces need to go to finishing/polishing/engraving. I was happy to see this though, and it looks like they may indeed have these samples completed Monday for my approval – at which point mass production will begin. I want to say at best I may have them in my hands May 15th, at which point I can begin shipping. I expect my order with the US manufacturer to be completed around the same time, and I will use whichever bars I consider to be the best (if there is any difference in quality at all) Stay tuned. Thank you.
http://i.imgur.com/cQNYsO7.jpg
04/24/2017 Update
The steel housing samples (from my overseas supplier) have been completed and approved, so production is underway. http://i.imgur.com/V4UeHe0.jpg
The small sliding clips are being sent to engraving today, and I will share what that looks like within the next couple of days. The coins are complete minus the gold electroplating and color fill and I think I'll have photos of those to share by Friday or sooner along with the holograms. Things are all coming together. Thanks everyone for your patience with this project.
04/27/2017 Update
The mint informed me that if I do gold plating, that the rim of the coin must be gold also. The only option to keep the rim silver would be to hand-paint the gold B, and I didn't want that, so I asked that they proceed and plate the rim too. They sent a photo today of the gold and I'm really happy with it. You'll see two of the colors have been added, with white and blue remaining.
Front: http://i.imgur.com/XHfTeSJ.jpg
Back: http://i.imgur.com/jN6voBs.jpg
I was also given a completion date of May 12th for the coins.
Furthermore, my US manufacturer informed me that they are close to completing the housing sample I ordered from them, and both the glass and holograms have shipped.
Have a good weekend everyone, I'll report back next week with photos of the holograms and any other news I have.
05/03/2017 Update
Received a finished proof from the mint, and could not be happier with it. Will have more news on the housings tomorrow, along with photos of the holograms.
http://i.imgur.com/UcMzwB2.jpg
05/04/2017 Update
The holograms arrived and they're pretty cool. More shiny and reflective than my past holograms, and will look nice on these coins when assembled. The sample coin I was sent is with my local supplier to make sure they will fit inside the housings ok, but when I get it back I'll assemble one and share a photo. My next update will be on Tuesday or Wednesday of next week. I hope to have a better idea of when the housings will be completed by then. May 12th is still the completion date for the coins.
I was initially quoted 40 days for completion of the housings, and that was on March 3rd. I added a couple weeks to this in my initial estimate, and I'm sorry to everyone that it is taking longer.
Here are some shots of the holograms I snapped quickly with my phone… They look much better in person, as does the coin also!
http://i.imgur.com/mEgiNjl.jpg
http://i.imgur.com/eQhK3AD.jpg
05/10/2017 Update
The coins should be completed within a couple days, and I imagine I will have them in hand early next week. Once I receive them, I can begin the work of loading the keys and applying the holograms. This will keep me busy while I await the steel housings – which could take a while longer unfortunately. The manufacturers are having a difficult time with these – with all the steps involved, and the time needed to hand-polish the housings and the small sliding clip. I asked them to take the time they need to do them right – not to rush.
I will continue to post updates here as I receive them myself.
Here's a shot of what the front side looks like (minus the screw heads, which will be drilled out in the completed assembly) and I asked them to center the logo with the bar, not the center of the clip. The photos don't really do these justice. I'm very happy with everything.
http://i.imgur.com/uQVyqg9.jpg
I haven't had a chance to assemble the back yet – I will try to have this finished soon.
All of the glass arrived today in good shape as well.
These rest inside these small acrylic easels quite nicely… I'll include one with each bar shipped.
05/17/2017 Update
I received all of the coins from NWTM this morning, and they look great. Just like the sample they sent me.
I applied a hologram to the sample, and it looks good, but the etched square is a little larger than I wanted. The supplier is checking to see how quickly they could send me replacements, and depending on the time they quote me and how soon I will receive the steel housings, I may hold off on beginning to load the keys. It's not an easy decision, as I want to get going with these, but I also want them to look perfect. And there me be time considering I'm still awaiting the housings. Here's a photo http://i.imgur.com/pD9Glts.png
I'm also trying out some keys with a dark blue background – the same color as the background on the front of the coin.
My US supplier finished their sample of the steel housing this week also, and it looks great – basically identical to my overseas supplier. So everything is coming together still, and I'm just waiting to get a more solid estimate of a delivery date from both suppliers.
I've also moved into a new office space, with one room dedicated to assembly. Needless to say, I've had my hands full and am working daily to strengthen my brand, and my relationships with a number of suppliers. And I have a new design in the works, that I'd like to release this fall or sooner… ideally w/o a pre-sale this time. I know that everyone is excited to receive these… the waiting isn't fun for me either.
Thanks all, check back next Tuesday please for a new update.
p.s. check out the Woz with his Kialara – a gift from Matthew Roszak. https://twitter.com/MatthewRoszak/status/863129499755462656
06/12/2017 Update
I sent an email out to everyone a week ago with the latest update. If you missed it, here is that email:
I have received the coins from the mint, and I could not be any happier with them – they're even better than I had hoped for – but I am still awaiting the steel housings. When I learned of the delay with the housings, I began to seek out a new, back-up supplier, which I have found. I am still expecting my current supplier to deliver, and they've been updating me on the progress, but I didn't want to take any chances.
Here is the last photo they shared with me. I will share more as I receive them. http://i.imgur.com/LNwBmoY.jpg
The newly designed holograms arrived as well, but I felt they could be better, and knowing of the delay with the housings I decided to make some improvements and resubmit my order at an additional cost of $2,000.00, plus an additional fee to have them expedited – I want to get these perfect, you all deserve that… and I believe I will still have them in hand prior to the housings, which are estimated to ship June 25th or sooner. (12 days from now)
The new/backup supplier has started production as well, but it's likely I will receive my original order first. They encountered the same unforeseen problem as my overseas supplier with producing the steel sliding clip… and also worked out a solution. I plan to use these as part of a future release.
I originally added two weeks to the time I was quoted, and I apologize that this was still not enough time. I have made every effort possible to ensure I do get these delivered to everyone as quickly as I can. I'm working every day on it, and doing my best to keep everyone informed. I also have a lot of work ahead of me, and I'm just as anxious to receive these as all of you, and I'm extremely grateful for the patience that has been given to me on this project and all past works – sincerely.
06/13/2017 Update
I have not checked in with my supplier since my last email update, but I plan to do so in the next day or two and I will share any news I receive here.
The new holograms are in production, and I've folded and labeled all shipping boxes so they will be ready to go when I begin assembly.
Getting close…
06/18/2017 Update
Last week I was informed that production of the housings would be completed by Monday the 19th (tomorrow) and that the engraving would be completed Monday/Tuesday this week. It's looking like these parts may ship out Tuesday or Wednesday, so check back for a new update no later than this Wednesday the 21st.
06/21/2017 Update
good news, the housings and sliding clips have all been completed and the hand-polishing process is complete. Late last night I worked with the factory to make sure the engravings were in the correct location. All of the engraving work should be completed by tomorrow, at which point all pieces will go through a final quality control inspection, and then shipped out. I ordered extra assemblies to make sure I had plenty on hand if some did not pass inspection. So hopefully the next update will be shared Friday to confirm all pieces have shipped. Thanks again everyone.
http://imgur.com/cJVCWV3
http://imgur.com/lsFx1sF
http://imgur.com/6yHAi1Q
What these started as: http://imgur.com/oTvhg2Y
06/25/2017 Update
I received word that the factory was working overtime this weekend to complete production. I should be back with a new update late tomorrow evening or early Tuesday. I expect these to ship to me any day.
06/27/2017 Update
More good news, all parts will ship to me tomorrow, and the engravings look excellent and in the right location (slightly off-center on the clips so that they will be centered on the bars) I'm hoping to have parts in hand so I can work on assembly and begin shipping next week.
07/06/2017 Update
All of the housing parts arrived today and look perfect. There were 10 boxes weighing close to 200 lbs. They were held up in customs for a few days longer than usual, probably in part b/c of the holiday.
The only thing left to arrive is the new holograms, and I was told they shipped out yesterday so I expect them any day now. I will be working on other steps of the assembly until they arrive – like loading in the moon samples.
Every one of you has been very patient with me, thank you!! I will be working on these this week and throughout the weekend, and am excited to post the next update once these have started shipping.
07/13/2017 Update
Production is in full-force.
http://imgur.com/m6RQtfH
http://imgur.com/HXcRwm7
The new, replacement holograms arrived and they are much better than the first batch. You can actually see the honeycomb pattern in them now, which was lost in the first batch when a 3D effect was added that didn't even look 3D. I'm very happy I reordered them. Also, the square transparent window is now the same size as the square key underneath.
Old holograms:
http://imgur.com/pD9Glts
New, replacement holograms.
http://imgur.com/P6ID7xZ
http://imgur.com/J23LURC
Next update on Monday.
Best,
Max-
07/17/2017 Update
Everything is going smoothly with assembly. There are some tasks that have taken more time than I would like… for example of the 5,000 holograms I ordered, only 1 in 10 have the square window centered inside the circle. It's enough to complete these, but took almost a full day to inspect each. http://imgur.com/oIOJ2bE I do have someone helping me with some of the smaller tasks to help get these shipped sooner… even just unwrapping the 400 housings, 400 clips and 800 circular retaining rings from their factory packaging was a full day with help.
The NWA5000 samples have been loaded into around 1/2 of the bars, and I'm still cutting the rest. It's a very slow process and is something I've spent the better part of the last week or two working on – I plan to take some photos of this process to share soon. I have gone through a dozen diamond coated saw blades already.
My goal is for shipping to begin this Friday, so I will post a new update by then.
P.S. I have also been shipping out signature series (bars/prints) orders, which I fell a little behind on – so if you're waiting on these, know that you will be receiving them any day now.
07/21/2017 Update
75% of NWA5000 samples now cut and loaded into bars… took a break today and began applying the keys/holograms, and finished a dozen of them before I left late in the day – but not in time to ship out today. It took some time to get the process down. I'll be back in my studio this weekend to continue with assembly, and will share some more news and photos on Monday.
07/26/2017 Update
I've been very hard at work (12 hour days each day this week), and will work on a detailed update to share here and via email tomorrow (Thursday) around 5pm/6pm California time. Lots of pics to share too!
07/27/2017 Update
I have some new images to share:
http://imgur.com/WtL6Jun
http://imgur.com/Emqf50S
http://imgur.com/kmYmECO
http://imgur.com/hD5wSja
http://imgur.com/RoeRT2P
Keys and holograms have been assembled into the 21 'two bitcoin' coins.
Keys and holograms have been assembled into half of the '500k bits' coins. I have 50 left to assemble.
Over the weekend I will be loading the keys and holograms into the '100k bits' coins.
When all holograms and keys have been loaded to all coins, I will begin placing the coins into the bars and ship as I go.
Each bar will ship in a small red velvet pouch and will come with a small acrylic stand/easel.
I added a light coat of a paleobond meteorite clear coat spray to each of the cut samples, to protect them from cracking or chipping inside of the glass window. They feel very solid and I'm happy with how they look.
I've only had all parts in stock for two weeks now so am doing my best.
Next update will be early next week, thanks all.
08/01/2017 Update
To fill everyone in on my week so far, things are still progressing and I'm busy each day with assembly, but I did run into a new issue that is in the process of being corrected.
As I have been loading holograms onto the moon coins, I would occasionally find a coin with a small defect. Some are very tricky to see, others not so much. I know some of you even desire errors, but this feels less like an error and more like some of these skipped quality control. (p.s. these errors are not for sale so please don't ask)
As I started pulling the ones with obvious errors, I began noticing smaller errors on others, and today I overnighted back 85 of the 380 moon coins. The Mint has pulled the dies to be prepped (pushing me to the front of the line I believe but need to confirm) and hopefully it won't take long to get the replacements back. It cost me a full day just to sort this all out.
In the meantime, I will continue working on the rest and I will begin shipping as soon as possible – potentially by Monday now. Since I do have plenty of good coins on hand this should not delay things much further. I have more than enough to keep me busy until they arrive.
A separate, unrelated issue I encountered over the weekend is shared here and involves the Signature Series. I'm sharing to keep things transparent.
Thank you again, just working to deliver my best as quickly as possible.
Max-
examples of the errors:
http://imgur.com/Suz1y2A
http://imgur.com/x6a3RQR
http://imgur.com/TOzanlh
http://imgur.com/womq9UP
08/08/2017 Update
Worked all weekend and all of today on assembly. Made some good progress. The two bitcoin denominated bars are complete and I'm currently working to finish the 500k bits bars. The plan now is to begin shipping once I get to the 100k bits bars, as these will be completing the sets and suites.
My plan was to work on the suites – shipping as I go – then the sets followed by singles, but because I had to send many coins back to the mint it was really complicating things for me. Some suites are missing coins as are many sets. I'm still trying to figure out exactly how to handle this situation, but the plan now is to just keep assembling what I can each day, and begin to ship what I can when I can. I figure if I just keep busy that everything will fall together soon. I should have a ship date for the replacement coins this week.
Because of my very busy schedule of basically nonstop assembly, it may take me longer than usual to respond to any emails or messages this week.
photo of completed bars:
http://imgur.com/2ilIR2P
photo of screw heads drilled out:
http://imgur.com/Cx6bMKo
photo of loc-tite application (6 applications in each bar)
http://imgur.com/j6RawQf
As always, thank you everyone.
08/11/2017 Update
This week I completed what I have in stock of the 500k bars, having assembled around 100 bars in total. (minus drilling the screw heads)
Next week I will do my best to begin shipping as I complete the singles (serials 01-100), and then ideally singles with serials 101 – 250 the following week(s).
On a productive day with little to no other tasks to perform, I can assemble 20-25 bars, and I have 250+ left to assemble, so some of you will be waiting 2-3 more weeks… and I'm still awaiting the replacement coins from the mint – today I was told at best 2 weeks, and at the worst 4 weeks.
One of the smaller tasks, like spending 5 minutes to drill the screw heads from each of the 371 bars and polish them, adds up to 1,855 minutes, or 31 hours of work – so just know that I'm doing my best, and am more anxious to fill these orders than anyone is to receive them.
And again – you have all been great and your patience with me has been highly valued and respected.
08/18/2017 Update
this week I assembled around 75 of the 100k bits bars, drilled the screw heads from 150+ bars and cut another 75 samples of nwa 5000. It was a productive week. This evening I began polishing and packing some orders which will begin shipping Monday. I will email tracking numbers to everyone as I ship, so if you have not received a tracking number your bar(s) have not shipped… please be patient as it will still be a couple weeks for many of you, but I can assure you I am working to fill orders as fast as possible.
Moon Army: http://imgur.com/Do11XUh
08/29/2017 Update
I began shipping orders out last week, and have more orders shipping this Thursday/Friday. Tracking info is following all shipments, so if you have not received an email w/ tracking your item is still being processed. I am awaiting some replacement coins that I was told would be completed this week to fill many of the suites and sets… I will share a more detailed update Friday evening. Thank you all.
09/01/2017 Update
I shipped a few more orders Thursday and another 10 today and I have a dozen more sets & singles shipping out Monday, and a couple suites. I have started shipping the singles, although I still have 150 left to do. I am working every day dawn to dusk and will continue to ship orders every other day or so. When I inquired about the replacement coins on Thursday the mint said they were in production… I think it might be taking a little longer since I sent back an additional 25 coins – the color-fill is all done by hand. I will check back with them first thing next week. Around the end of next week I will try to begin sending emails with updates to those still waiting – for now I'm just shipping everything I can until the replacements arrive and I can finish shipping the suites and sets. And I am still emailing tracking info as I ship. For those with large orders I may ship in two shipments – I will be in touch if this is the case. Lastly, if anyone has a different address than the one submitted with their order, please let me know. Thank you.
09/13/2017 Update
Just a quick update – I've been shipping orders all this week, and will be emailing more tracking numbers tomorrow and on Friday.
I will also post a more detailed update on Friday as I'm still awaiting the replacement coins from the mint. They did assure me they are in progress, and I should know more by Friday.
The more orders I can ship before I receive the replacement coins, the easier time I will have communicating with those still awaiting their suites and sets, so I'm working to knock out as much as I can.
10/13/2017 Update
My apologies for this long awaited update, which is actually to share that I will be posting a longer update on Monday evening. I'm getting things sorted with the mint on the qty 117 coins that are being replaced. My update on Monday will include more details on a special item I plan on gifting to all of you who have been affected by the quality issue, thus delaying your order from shipping.
I have been working day and night since my last update to fill all orders I can, and I've started shipping partial orders as well. I've shared a couple smaller updates on bitcointalk also if you would like to follow that thread: https://bitcointalk.org/index.php?topic=837501.620
If you have not received your bars yet or tracking info via email, check back here late Monday and I'll try to give everyone a specific window on when their order will ship and more details on the gift they will be receiving. This includes many of you waiting on sets, a few on suites and a few on singles.
🙂
10/16/2017 Update
Sad news but with a cherry on top.
On or around October 10th I received an email that the 117 moon coins I'm awaiting would be shipped as soon as the next day.
A couple days later I was told all 117 coins would need to be melted & re-struck due to a small error that was repeated on all 117 coins.
NWTM took this very seriously, and I received a telephone call apology from their CEO.
I was offered a percentage discount on a future order with them, no matter the size of the order. In my mind this benefits me, and not everyone who has been waiting so patiently with me for months now – so I didn't even care about that – I'm thinking what can I do to benefit each of you.
I asked if these 117 error coins had been melted yet, and was told they would be on Monday.
Over the weekend I negotiated the acquisition of these 117 error coins.
If one of the coins I'm waiting on is needed to complete your order, you will be receiving a complimentary 1oz Kialara Moon error coin. If your order is held up due to three of these 117 coins, then you will be receiving three of the errors.
If you ordered and are waiting on 5 sets, this does not necessarily mean you will receive 5 error coins, as some of your sets may be completed.
The error coins are not for sale, as each will be included with the replacement coins for your order when I receive the 117 correct coins.
Some have asked me how it is fair that there are people with 5 or 10 moon bars when their suite or set or single has not yet arrived. The answer is because all cards had been dealt prior to me discovering the errors. Serials had been assigned across the board. And if someone has 10 moon bars in their possession, then they are probably waiting on 10 more. I'm only shipping what I can, and doing my best to turn this difficult situation into a positive for all of you who have been patient with me… there are customers who have been with my since day 1 and spent many thousands on my work who are still awaiting their orders. There has been no favoritism. It boils down to the more moon coins you ordered, the more likely it is that you are holding some now.
In order to avoid creating a market for these error coins prior to them shipping, I will not be sharing photos or disclosing the error, other than to say the coins are still very beautiful. I also will not be confirming to individuals if they qualify for the free errors, only to say if you haven't received your order yet that it is highly likely – almost certain. And the more bars you are waiting for, the more error moons you are likely to receive.
The CEO has pushed the production of these 117 coins to the front of the line, and here is the schedule they laid out for me with production… keep in mind this is only an estimate.
Monday – 10/16: Raw silver is melted on site and then made into billets, extruded into raw metal strips
Tuesday -10/17: Silver strips are turned into coin blanks and the blanks are then rimmed, cleaned and prepared for striking/pressing
Wednesday/Thursday – 10/18-19: Coin blanks are minted in the presses (all done by hand, one at a time), after minting the coins can be gold plated (each coin must be hand masked and then get a heavy gold plating)
Friday 10/20: Factory production is closed on Fridays
 
Monday thru Wednesday – 10/23-25: Coins go to enameling department and are all hand enameled with 4 colors.  White enamel takes 24 hours to cure
Thursday – 10/26: Coins are engraved and lacquered and hopefully shipped.  If not completed by Thursday then they would be finished and shipped Monday when the production team returns ASSUMING there were no delays (usually in enameling).
So at best I will have these in hand by the end of the month, and continue shipping early November.
I'm in constant contact with my account representative, the CEO and the head of the Quality Control department, and I will continue to post updates here as I receive them.
I am also working on and funding my next project so that I can attempt to launch it w/o a pre-sale. The only reason the pre-sale was necessary with the moon bars is b/c I had to come up with roughly $40,000.00 to secure enough of the moon samples prior to launch, as there was no telling when that supply could go dry.
I will try to answer any questions any of you might have, but I will not be disclosing any details to anyone on these error coins until they begin shipping in 2-3 weeks – again, to avoid an early secondary market for them as I have enough on my plate as it is, and I'm doing my best to keep everything organized.
I value every one of you, as customers and as friends, and I'm working to do what's in the best interest of each of you, putting myself last.
I trust they will get these right this time, and turned around quickly. They have been following my brand and are aware of how important this is.
Sincerely,
Maxfield-